stem field trips
WE ARE INVITING ALL SCHOOLS, PUBLIC, PRIVATE, AND HOME SCHOOLS TO BOOK YOUR STEM FIELD TRIP WITH US!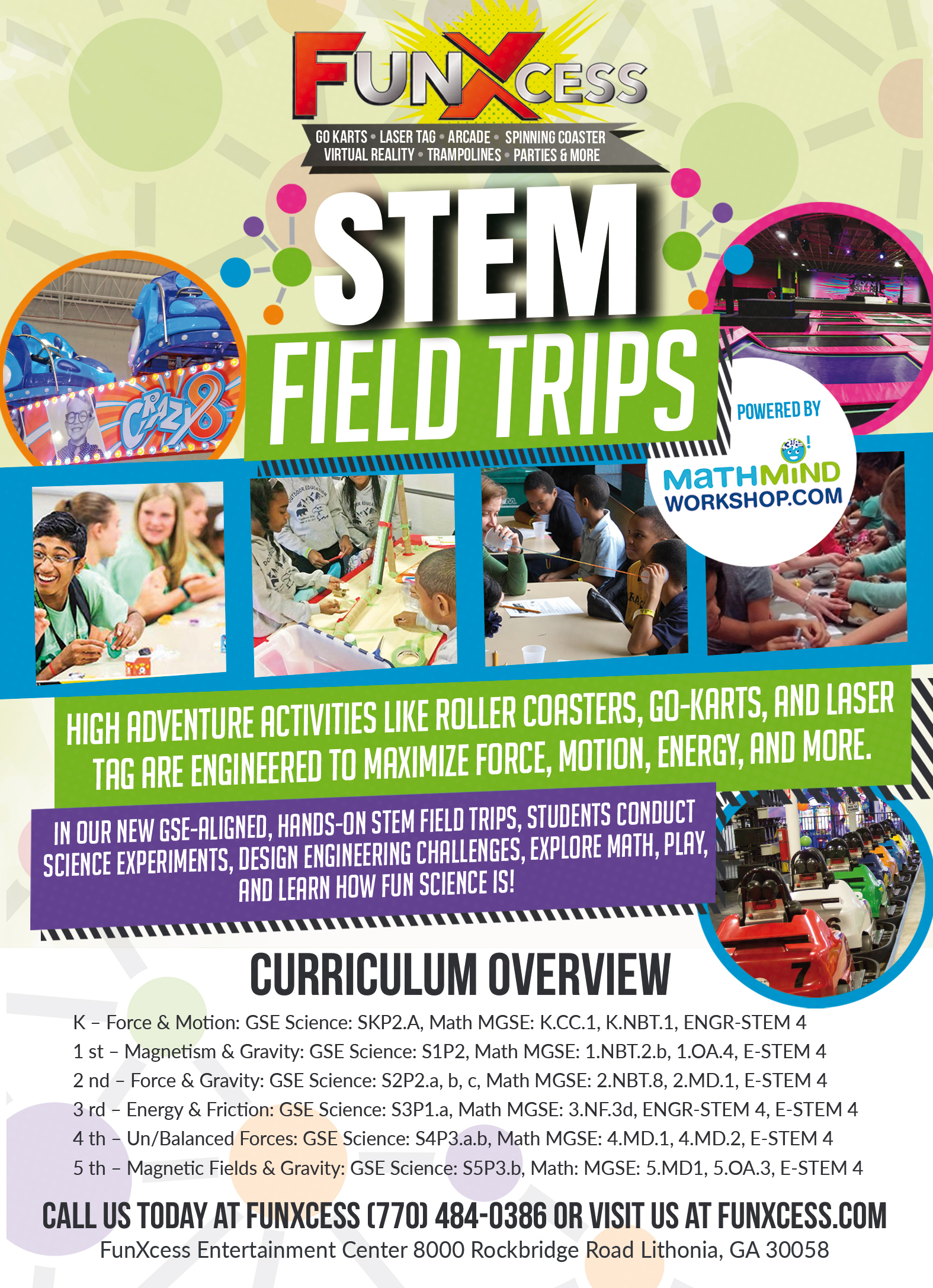 FunXcess STEM Field Trips
In Partnership with MathMinds Workshop
We put the M in STEM!
You may have heard of STEM: Science, Technology, Engineering, and Math. Maybe you've heard of STEAM, or STEM with art. We approach both starting with mathematics and pursue learning through active playing, moving, exploring, experimenting, investigating, building, breaking, launching, dropping, creating, eating and more.
STEM Field Trip Registration Form
Curriculum IN DEPTH
Kindergarten
Experiment with dropping and swinging motions due to gravity and engineer a motion changing device.
GSE Science: SKP2.A
GSE Math: MGSEK.0A.4, MSGEK.CC.7, MSGEK.NBT.1


First Grade
Experiment with magnetism and gravity and engineer a magnetic trampoline.
GSE Science: S1P2
GSE Math: MSGE1.NBT.2.b, MSGE1.OA.4

Second Grade
Experiment with gravitational force, mass, and speed, and engineer a device that uses elastic force to change an object's speed and direction.
SE Science: S2P2.a, b, c
GSE Math: MSGE2.NBT.8, MGSE2.MD.1

Third Grade
Experiment with the transfer of potential, kinetic, and heat energy and engineer a device that transfers gravitational potential energy to kinetic energy and to heat energy due to friction.
GSE Science: S3P1.a
GSE Math: MGSE3.NF.3.d

Fourth Grade
Experiment with balanced and unbalanced forces, gravity, mass, and free-fall.
GSE Science: S4P3.a.b
GSE Math MGSE4.MD.1, MGSE4.MD.2, MSGE4.NF.6

Fifth Grade
Experiment with the radius and strength of a magnetic field and engineer a magnetic spinner.
GSE Science: S5P3.b
GSE Math: MSGE5.MD.1, MSGE5.OA.3
Contact Information
PHONE (770) 484-0386 EMAIL Info@FunXcess.com
HOURS OF SERVICE:
Sunday - Thursday: 12:00 pm – 9:00 pm
Friday & Saturday: 12:00 pm – 11:00 pm
LOCATION:
Birthday Parties, Atlanta, GA
At FunXcess, we offer a fun place for birthday parties for residents and visitors of Atlanta, Lithonia, Snellville, Grayson, Norcross, Loganville, Lawrenceville, Lilburn, Conyers, and Covington, Georgia.